Chapter (5) How to Rank Website In Google:
Ranking in SEO
Most people come up with a similar question that how to rank a website on Google? Ages ago, certain predictabilities were made in understanding the factors that let the site rank in Google search results. However, most of the professionals used black-hat-SEO techniques to gain a higher ranking. Using unauthorized tactics may penalize your website by the search engine. Using legitimate tactics elevates sites in the ranking and avoids taking website users or customers into consideration.
Over time, search engines became adept at judging sites based on user intent and weeding out sites using trickery tactics to rank higher on search engine result pages (SERPs).
Today you can't deceive search engines if you have spammy content because Google and other search engines have become champions at knowing which websites are perusing their guidelines. Searches are more than 250 factors search engines consider when ranking websites in Google. Although the exact attributes are not yet seen that results in a better ranking, the fundamentals have shifted toward an enhanced user experience (UX) and providing meaningful content.
There's a famous adage that "Content is king," you may have heard a million times, but the scenario doesn't exist anymore. Now, it has changed into: "Relevant content is king" is the new maxim and trending as the apt motivator toward a streamlined UX. Your focus should be on user intent and satisfaction rather than designing the sites for search engines. Relevance and best practices are the considerable ingredients of SEO designed to help users find information regarding their queries.
This chapter looks at on-page, on-site, and off-page SEO factors that form the crux of SEO.
On-Page SEO
On-page optimization depends upon factors that can affect your site's ranking, and you or your code can control these factors. It would be best if you focused on the following page-optimization factors to get an optimal experience.
Checkout SEMrush on-page SEO Checker
Title tags
Meta keywords and Meta descriptions
Headings
Engaging content
Image optimization
Interactive media
Outbound and internal links
Title Tag Optimization
In a page's HTML code, the <title> tag refer to the content in the page. You can also view the content written in between the <title> tags in the Chrome's page source.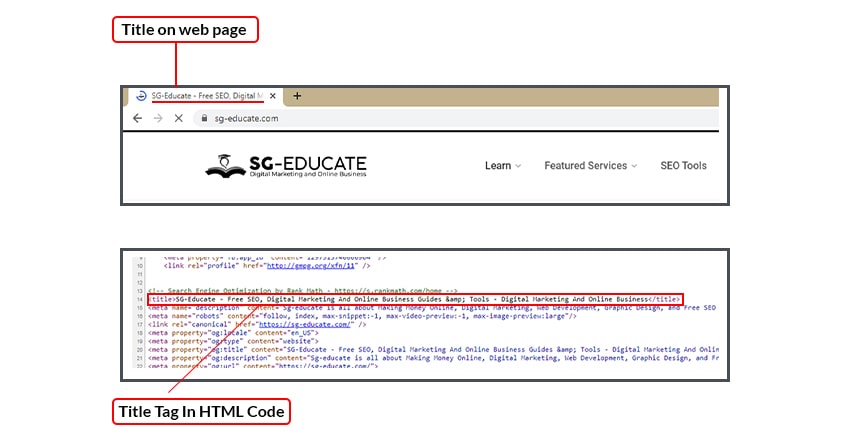 The search engine's page title is just as the title of the search snippet link on SERPs. However, the search snippet title may depend upon the search query.
A search snippet may also vary depending on the links and their age for the same search results. Thus, there is no specific rule on how to create a page title. The title can be different under the platform-especially in the case of responsive websites on small, medium, and large screens. Don't stuff page title with keywords because penalty can be visited upon your website by Google-for using illegitimate tactics in manipulating the natural search process.
Also, avoid the use of irrelevant phrases or a single keyword to get better aftermath. Your page title should give a clear overview of the page content. It is important because single keywords face a lot of competition, and thousands of websites used them, so page titles are better to use.
Long-tail keywords comprise an amalgam of keywords and related phrases. Also, keep in mind that there must be a unique title on each page of the website.
According to SEO experts, using the relevant phrases (say, 8-11 words) with 55-65 characters is the best practice. Avoid using extremely long phrases because they will not work well on mobile devices.
Meta Keywords and Meta Descriptions
Recently, Google declares that Meta keywords and descriptions will not be considered as ranking factors. But ignoring them wouldn't be a good practice because these are cached. Although they are not consequential, Meta description can be an excellent way of advertising.
The image below provides an example of a Meta description. It is a good practice to limit the Meta description to 155–170 characters. It provides a preview of the content or information on that page and should contain the entire page's gist. If the description is intriguing and the user finds it useful, it may work as free advertising. It may compel the user to click the link to that site and view the whole content.

Note:
The Meta description must be unique for each page on a website, like a page title. Avoid stuffing the description with keywords, and remove all special characters. Using multiple Meta keywords can have a negative influence on search engines. Web designers are increasingly using the Meta robots attribute. The crawlers are informed whether the page should be displayed in the SERPs or not. In contrast, you should depend on the links on the page.
Heading Tags (h1, h2, h3, h4, h5, and h6)
Heading tags are of great importance in the on-page factor. The <h1> (heading 1) is the most pivotal tag and must be relevant to the web page's content. It tells the readers about the content they are looking for on that page. So, stick to a single topic rather than filling the page with clutter. Use the content's relevant keywords in the topic to make it easy for users and spiders to know what type of content you have. Google emphasis the use of text semantics to get better consequences. Don't neglect the hierarchy of the headings.
Your web page must display a systematic pattern or consistency. If the headings' formatting or styling is not to your liking, you can use CSS styling to alter it.
Include keywords, but do not repeat them in the heading—keywords used at the beginning of a heading yield better results. Avoid spamming or using irrelevant words in headings because doing so may have a negative effect.
Engaging Content
Using meaningful and pertinent content in the body section of the site is vital. Relevant content is king. The content should not be irrelevant or stuffed with keywords—the search engines may penalize you for it. However, you can use keywords or close variations of them twice or three times on a page in a logical way.
The content should be informative and engage the user, encouraging them to return to check out the site regularly. It is good to update the content (such as technology topics) at least every six months because Google has a penchant for updated or fresh content. Update your blog regularly and use interactive media on your web pages such as images, videos, and audio files so they engage the user and may bring more traffic to the website.
Don't forget to spell-check and proofread your content before uploading because a spell or grammatical error can negatively impact your site. Besides, much content matters too, so put keywords 3 times in at least 140 characters. In-depth, detail-oriented, relevant content helps you space out keywords evenly. It also helps users understand the content's logic, especially if the topic is informative and significantly educates the user. However, do not use 2,000 words to fill the page; low-quality content results in bad UX.
Remember, less is more because the quality is more important than quantity—function over form. Bounce rate reflects the number of users who visit a web page and then leave. It doesn't matter how much time they spend on the page; it focuses on whether users leave the site after viewing just one page. Low-quality content results in higher bounce rates and will eventually affect the site's visibility. Do not copy content from another website or use boilerplate content.
Google search engines have been known to penalize sites that use duplicate content. Focus on user satisfaction and not fool the search engines if you want to rank the Google website. There are legitimate reasons for duplicate content: for example, an e-commerce site will have the same content on different pages with different URLs due to filters such as size, color, and price. Some websites have the same content on different web pages with the prefixes HTTP and HTTPS; although the rest of the URLs are the same, the prefixes mean they are treated as separate pages.
Sometimes the watered-down mobile version of a website has the same content as the desktop version, resulting in duplication.
The content may be the same, but the URLs are different. Search engines may not allocate as high a ranking in such cases because two different URLs have the same or similar content. You can resolve these issues by using either a canonical tag or a 301 direct. A 301 redirect is a permanent redirect from one URL to another that helps users reach the new address. It can also be used for "404 Page not found" errors where content has been moved to a different web page.
Next Article (Image Optimization and Interactive Media)
Thanks For Reading.
If you liked this article and want to read more of these, please subscribe to our newsletter and follow us on Facebook, Youtube, Linkedin, and Twitter.