Chapter (6) Image Optimization and Interactive Media:
Earlier SEO was text-based, but this has changed significantly. You should use interactive media such as audio, video, images, and infographics to connect with your users. Use captions and alternate text for media, and build relevant content around these media. You can use a single key phrase in the alt text if it is appropriate to that image.
You can interchange images based on the screen size, heavy-duty images for desktop sites, and lightweight images for mobile sites. Try to limit the image file size to less than 80–90 KB for optimal page-loading time. Use PNG or JPEG image formats wherever possible because they are robust and have more visual properties. Using thumbnails and different angles for a product are the best practices for image optimization, especially on e-commerce sites.
Using videos explaining a product or marketing a specific entity is a good practice. Google owns YouTube, and it can be a game-changing means of branding your product. Infographics are an excellent way to provide information or create timelines with relevant content.
Outbound and Internal Links
Internal links are a key feature of SEO. These are links on web pages that point to another page in the site or domain. SEO-related research suggests that no page on your website should be more than three clicks from the home page, meaning all pages should be easily accessible. You can use relevant anchor text to point to different pages on your site.
Breadcrumbs are an efficient way to provide site navigation using links. Having a good link structure makes it easy for search engines to crawl your entire website, and easy accessibility also leads to an excellent UX. Outbound links point to another domain or site. They are a useful feature for informative or niche topics.
Sometimes a page includes jargon or topic-specific terms; instead of wasting time explaining supplementary information on the page, you can use URLs or anchor text as outbound links to locations that describe the data in depth. SEO experts tend to doubt the content found on Wikipedia, but it is actually an excellent source of free, relevant, detail-oriented information.
For example, suppose you explain web servers, and you use the word server in your content. Instead of explaining what a server is, you can use the words as anchor text to link to a wiki site that explains the meaning and use of servers. Linking specific terms to wiki sites such as Wikipedia and Webopedia may boost your SEO process. Not only is doing so relevant, but it also lends a certain amount of trust and credibility to your site.
You can use outbound links to social media sites or blogs to help reach a larger audience. Just be sure you do not link to spam or illegal sites—doing so may negate your SEO efforts because search engines will penalize your site. Also, do not link to sites that are not relevant to the topic because two-way linking or link farming can be detrimental.
On-Site SEO
Whereas on-page SEO is relevant to individual pages, on-site features affect your SEO process on the website as a whole. This section explains the following:
URL optimization
Image Optimization
Site maps
Domain trust
Localization
Mobile site optimization and responsive websites
Site-loading speed or page-load time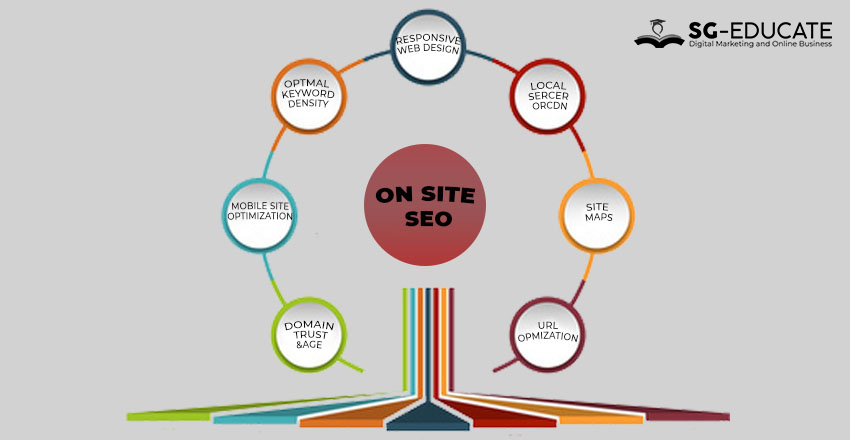 URL Optimization
URLs play an important role in SEO, and you need to plan holistically for making your URLs as SEO-friendly as possible. Each URL should be human-readable and not consist of many memorable characters or numbers mixed with words. It should be meaningful and should reflect what the site is about.
For example, https://sg-educate.com/how-to-use-semrush-for-seo-complete-2021/ is meaningful because it tells readers that the site offers a comprehensive array of topics and guides related to SEO. Using hyphens (-) instead of underscores is a good practice recommended by Google. SEO experts advocate using canonical tags or 301 redirects for duplicate pages or pages with similar content; otherwise, the value of the content may be negated because ranking signals may split it across the multiple URLs. For "404 Page not found" errors, you need to use 301 redirects to guide users to a working URL for that content.
Using a robots.txt file helps inform search engines about pages to be ignored while crawling the site. For example, a Contact Us page or About Us page may be useful if users need to access or buy a product or need help from the customer service department. However, a regular user may not find the Disclaimers page meaningful and hardly skim such pages. So, it is essential to educate crawlers about which pages need to be indexed for SEO processes.
You can also indicate broken links and 404 pages in the robots.txt file. SEO experts advocate using a favicon on the title bar next to the URL because it lends credibility and helps with effective branding. It helps users recognize your site and improves trustworthiness significantly. Although there are no direct benefits from favicons from an SEO perspective, they enhance usability. In the Google Chrome browser, bookmarks send out signals to the Google search engine that maps bookmarks for sites on the Web. This is not a major factor, but it certainly helps from a user perspective. The image below the favicon for SG-educate:

Site Maps
There are two types of site maps: XML site maps, which are tailored to search engines, and HTML site maps directed toward users. An XML site map contains a machine-readable list of pages on your site that you want search engines to index for SEO purposes. It contains information for crawlers such as the last update, relevance or importance, alterations, and related data.
XML site maps are domain-related and help spiders perform an in-depth search of web pages. For example, issues such as broken links or a lack of internal linking can be crucial factors that may result in crawlers not indexing pages. There is no guarantee that a site map will cause crawlers to index all of your website's pages; however, it will significantly help with accessibility. Search engines can easily digest such data. An HTML site map is tailored to your website's users and allows users to locate different pages. All categories and products can be listed explicitly. It streamlines the user experience by making users familiar with your website and provides better semantics.
UX is a vital aspect of SEO, so it is a good practice to include both XML and HTML site maps in your process. Ensure your XML site maps for search engines are exhaustive; on the other hand, HTML site maps should be more concise so users can navigate them more easily.
Domain Trust and Local Domains
Our domain can be a key ranking factor because it creates trust and credibility for site users. Studies suggest that domains registered for two years or longer were considered more trustworthy than new domains. Use the .com domain extension because it is more common than .org and other extensions. Domain localization— catering to a specific country or city—may prove to be a game-changer. For example, .co.UK caters to the United Kingdom and is more specific to users in that region and those with business links to the UK.
Choosing a domain with a good reputation is helpful. If the domain has been assessed some penalty, it can be detrimental to your business due to a lack of credibility. Using keywords in a domain name may be useful; however, given all the keywords that websites have already used, you may not be able to have the domain name of your choice.
Your domain name is crucial because it indicates what your site is all about. Opt for a more straightforward, unique, relevant domain name rather than a sensational name to help users connect with your site. You can use an online dictionary to check words related to your service or product. You can also use a combination of two or three words, such as Getresponse, WheelDeal, JemMob, or Homeflow. You can even think outside of the box and come up with something really creative, such as Reddit, Google, and Yelp, to name a few.
Again, focus on your prospective customers and come up with something catchy and easy to spell that they can relate to; for example, if you search for Food or a restaurant in Brandon, you see https://www.portillos.com/in the results. The name conveys that this is a Food business and the region (Brandon) where they provide Food services.
Thanks For Reading
If you liked this article and want to read more of these, please subscribe to our newsletter and follow us on Facebook, Youtube, Linkedin, and Twitter.
Next Article >> Mobile Site Optimization and Responsive Websites.