How To Use SEMrush For SEO, Making online visibility of any brand is not that easy in this digital realm because it has become an overwhelming challenge for marketers. But in this article, I'll show you how to use SEMrush so you can get heavy traffic to your website and improve your brand visibility. No doubt, your specific goals will affect the way you use SEMrush, but every digital marketer requires three steps along with their objectives that are, measuring, improving, and reporting. However, deploy these three steps SEMrush can help you do all of them, no matter your niche.
Here, I'll give you a brief overview of the core features of SEMrush that will help you measure your website/brand online visibility with the complete detailed report of your website/brand.
1. Start a Project
If you get into the dashboard, you'll see the Project loaded with multiple features that can help you to check your current website's online visibility. You can easily set this once easily and get a complete report about your website, including measurements from different angles and gather data over time.
Let's start the process!
First, set up the project on a domain, or enter a client's domain if you work with clients, in the Project Setup window. If you do work at home, then enter that domain.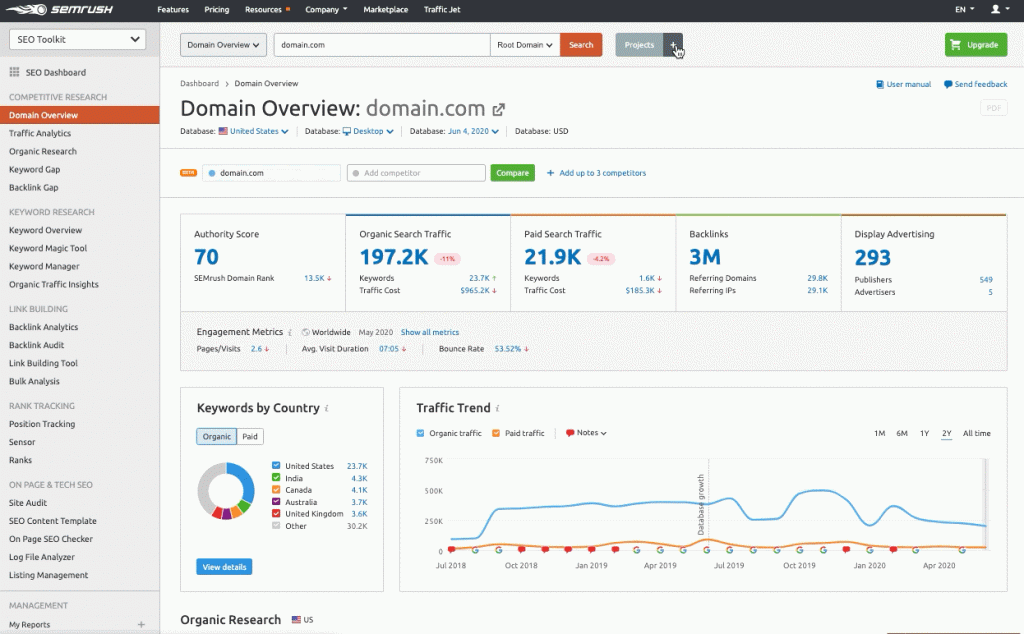 You can configure the 12 Project tools once the project is set up. After this, you can check your online website visibility and track your progress over time with SEMrush free trial. It also provides smart recommendations to improve your online visibility and organize your campaigns more efficiently. Each project tool makes it easy to report any improvement into a custom PDF with SEMrush's PDF report builder.
Besides, there are plenty of tools within a project, but here I'll explain three of them so, let's take a look at how to use SEMrush configuring tools!
Project Tool #1: Audit your website with Site Audit
Site Audit is one of the best tools within the Project, giving you instant insights about a website's health. This tool will give you a complete report about the issues found, regarding the web site's health and visibility, by crawling your site the same way as Google does.
Set upSiteAudit
This tool will then show you the Site Audit results and issues, some tasks like resolving the Errors, Warnings, and Notices issues for technical improvement in your website. After all this fixing, when you re-run the audit, the score will automatically improve.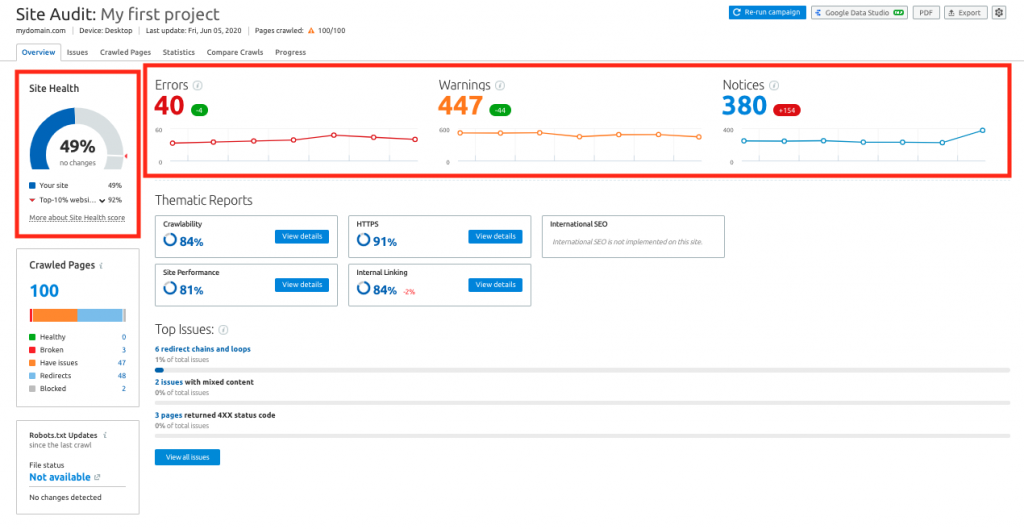 You can also refer to Features Manual or Site Audit Reports if you face any difficulty with Site Audit results interpretation.
Project tool #2: Track your website's visibility with Position Tracking
Once you've finalized your target keywords for your campaigns, use position tracking to track them.

Set-up PositionTracking
With this tool, you can track your custom list of targeted keywords globally with the SEMrush free trial. So, in this way, you can measure your website progress over time.
It also enables you to stay fully aware of your competitors and their ranking for the same keywords by tracking them. Set up an alert when the Position Tracking campaign runs so you can instantly get an email if your competitors cross a specific threshold.
Project tool #3: Gather on-page SEO ideas with On-Page SEO Checker
With SEMrush's 7 days free trial, you can also get an on-page SEO checker tool that can help you to identify the high-ranking pages with accompanying target keywords. It also provides you applicable recommendations to optimize each page for its target keywords.
Configure On-Page SEO Checker
As you can see in the given picture, the ideas you get from this tool range from strategies to the content in which recommendations are provided and how you can improve your SEO. The words you should add to a specific page or acquire backlinks from specific domains.

Apart from that, this tool provides the best opportunity to improve a website by making technical changes.
2. Discover & Analyse Your Competitors
SEMrush has made it easier to find out your competitors not only in your industry but any website that competes with you for your target keywords.
Discovery
In Organic Research, you can find organic contestants by just putting your domain into the search bar. Then you'll get the complete report about the domains you're competing with for the same target keywords.
Besides, you can also find your competitors from advertising positions, common backlinks, traffic, and a custom set of keywords.
3. Dive into Keyword Research
After finding your organic competitors, let's dive into the Keyword Magic Tool, where you can do the bulk of your keyword research easily. You can also measure the potential value of keywords to target that can improve your site.
Enter a target keyword that you want to rank for, and SEMrush will return a gazillion of related searches that will represent your product or services.

By using filters, you can find related questions and keywords in the top searched list with the lowest keyword difficulty score (KD %), most affordable keywords to bid on, and more. Through this process, you can also explore low-cost and low-competition keywords with SEMrush free trial, giving you more traffic.
4. Create Content Optimized to Rank
How to use SEMrush to optimize content for search?
First, you need engaging content before working on a website's SEO, as well as it should be optimized too.
What is SEO Content Template providing?
SEO Content Template is providing templates for creating optimized content. Enter your target keyword, location, and you will get the template.
To move forward, you can integrate your SEO content templates using SEO Writing Assistant into Google Docs and WordPress to grade your content as you draft it. See below: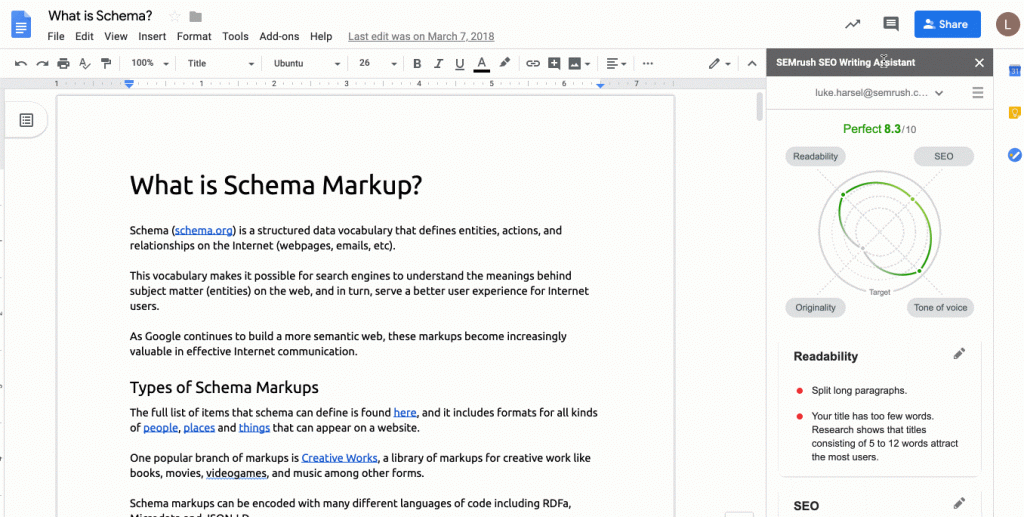 Try a new way to improve your content optimization and website by adding an extension of SEO Assistant Chrome to your browser.
5. Build Reports Quick and Easy
Reporting is an essential element of digital marketing. Let's say you work with clients, and you can build a report on what you measure before doing any work or after completing the work on business online visibility. You can also report again about the jobs you have done.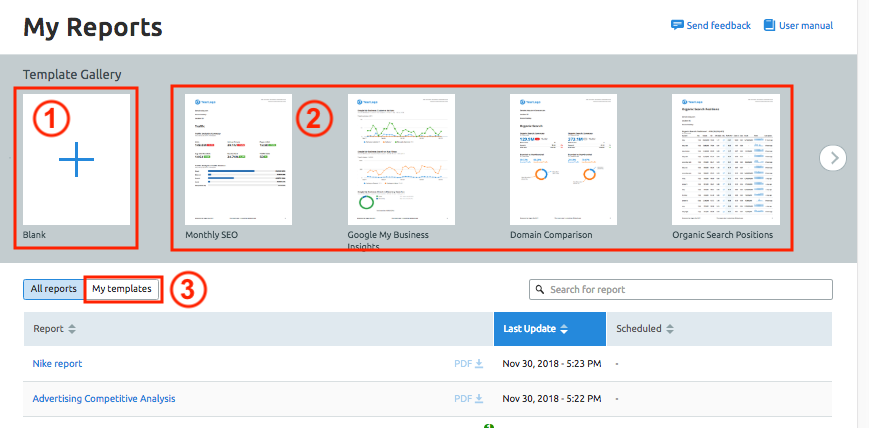 If you agree with me, you should start SEMrush free trial today and try the reporting feature.
All you have to do is, go to My Reporting, drag and drop the data widgets from your projects or Analytics reports into the PDF builder. To fully make it your own, you can add text blocks or images into the PDF builder.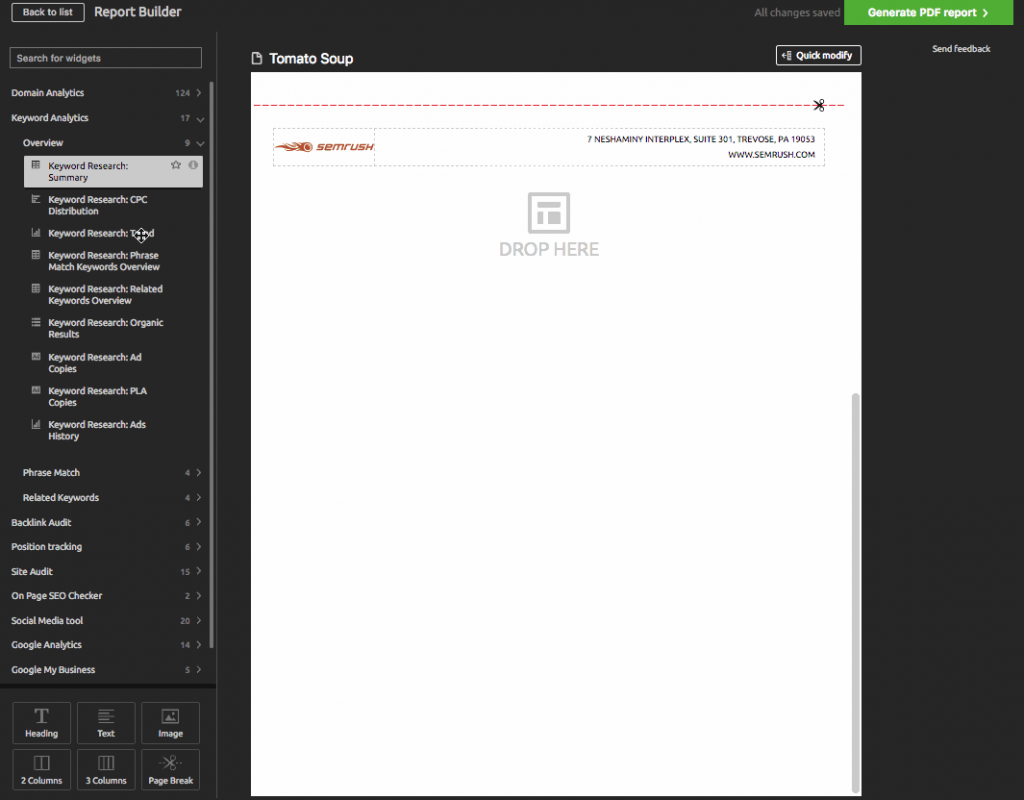 6. Understand the SEMrush Navigation
Once you get a quick win, you'd be more likely to understand the SEMrush toolkit structure to explore everything you can get to improve your site.
Dashboard
You can get a complete overview of all the tools of SEMrush in the dashboard, and that will be the first screen display on screen after login into the account.
From here, you can….
Make queries in the search bar.
Move to reports from the navigation menu.
Change your menu so; you will only have the tools in your marketing specialty.
Add domains to your dashboard.
Create a new Project
See the data about your Projects after the project is set up.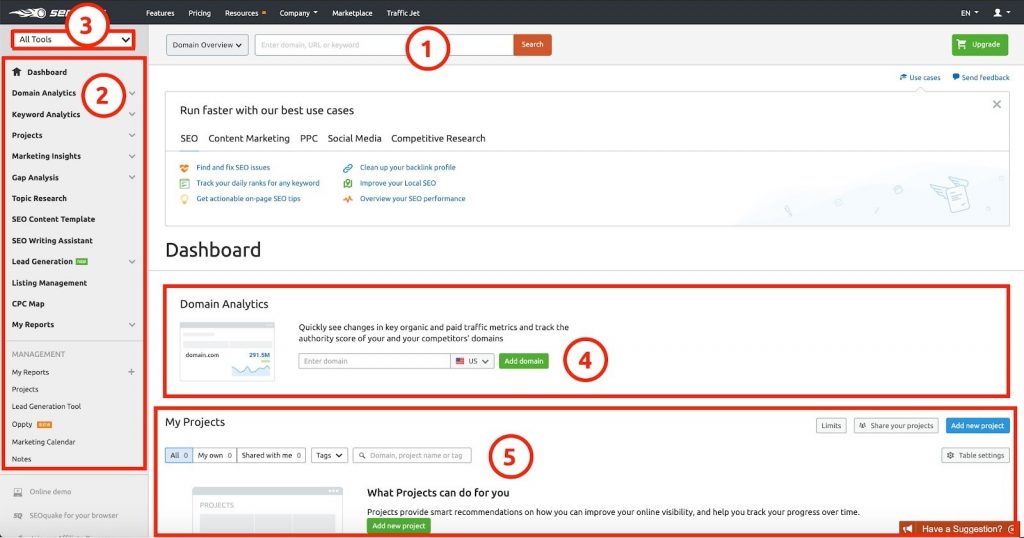 Two main areas of tools
There are two main areas in SEMrush where the SEMrush software suite of tools break down. Let's see how.
Analytics reports will provide you complete details by pulling the data from your database when you put queries in the search bar. This includes Keyword Research, Domain Analytics, Gap Analysis, Backlink Analytics, or Advertising Research report. Make queries in the SEMrush search bar and get access to reports. So, on the left side, select the corresponding information in the navigation menu. While on the other hand is Project, which allows you to analyze a single domain. Launching a project doesn't need any rocket science. You can easily manage all of your project data and campaigns from the project dashboard.
Choose Your Toolkit
By default, SEMrush will show you all the navigation menu tools that contain all the Analytics reports listed by report category.
Besides, SEMrush allows you to change the menu to only see the tools from a specific toolkit like SEO, Advertising, Social Media, Content Marketing, or Competitive Research as per your need.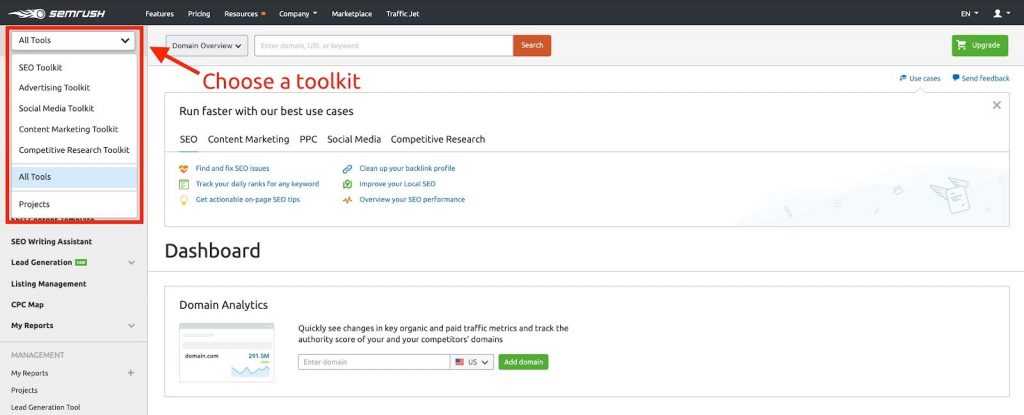 Once you set the toolkit, the menu will show you a simple menu of tools based on your niche and business needs.
Somehow, if you face some difficulty or run into an issue, you can have the Help desk referred to as the "User Manual" link, which can be found in the top right-hand corner of the interface. With User Manual, you can discover all the problems spoiling your effort and resolve them with less hassle.
Conclusion
I hope you'll find this article helpful for your content optimization and keywords ranking so you can take your brand to another level. To know more about SEMrush, start a free trial today and explore what you can do to get heavy traffic to your site and improve your brand visibility.
Thanks For Reading
If you want to read more of these, please subscribe to our newsletter and follow us on Facebook, Youtube, Linkedin, and Twitter.
Check out More Articles Start Affiliate Marketing Business