The basic aim of this article is to let you know step by step that what actually is Email Marketing. Furthermore, you will also learn how to do email marketing to promote your business. All the products and services that your business offers are sponsored through the use of a marketing campaign. It is a simple process in which emails are sent to make customers attentive about your offered services' status quo.
This article is basically a guide for beginners to understand the whole system, how it works, and where to start from.
Since, Marketing through email is strategically a powerful tool, it helps you to connect and reach your targeted audience in no time.
How do I start email marketing?
Getting started with email marketing and doing this remarkable campaign for your business is simpler. Even a newbie with no experience can have a quick start.
To understand how to start email marketing, let us break down the whole process into simpler steps.
Know your goals:
First thing's first! Never rush to implement the ideas. Rather give some time to set some measurable goals. Consider e-mail marketing as a big picture that needs to be understood and accomplished in tiny sections. Make goals that can be achieved in real-time. However, a slow increase in email sending is a realistic approach to consider.
Start from scratch:
If you are a beginner and getting started with e-mail marketing is becoming a difficult task for you, then the first thing for you to do is make a template.
Write an email
Email marketing and writing for the first time requires dedication and effort. Therefore, before starting an email campaign, create a template to preview the actual email format.
Comply with the rules
If you don't want your email to land in the junk or as spam. Inbox is a very busy space, but some subscribers still do not want to read emails. Set a unsubscribes group which will automatically remove the recipients who unsubscribe to your webpage.
Review the mail – Email Marketing
Checking before sending the email reduces the chances of mistakes. As test, you can send the email to a single person in order to check the formatting and other minor errors.
Create a schedule
Schedule timings of sending emails. How often and what kinds of the email will be sent to the recipients. Repeated sending may be more irritating. Therefore, rather than appear, again and again, make a weekly and monthly plan or as per strategy.
Measure the results
Since, being a marketer, you always keep an eye on the receiving end of the promotion. However, the same rule applies here. In order to get started with email marketing, the realistic approach is to measure the results and parallelly make the desired changes.
Email marketing advantages
As a beginner getting started with e-mail marketing is an easy job once you understand the benefits that come along.
10 such benefits of e-mail marketing that will make it easier for you to choose this promotional strategy as your campaign. Following are these basic advantages:
Low costs.
Easy way to reach the targeted audience.
Can be used to send relevant messages.
A quick method to generate revenue.
Simplest platform to start a marketing campaign with.
Easy to measure and share.
Can give you instant impact.
All the tools you need and few new ones to try:
Be everywhere with your customers using 'sendinblue'
Do it all with Sendinblue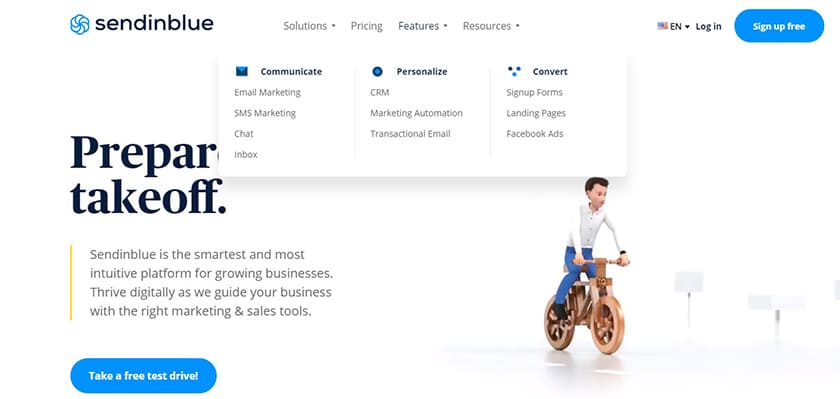 Email marketing
Get the word out and sell more with sleek email messages that you can design in no time
Communicate more directly with customers for urgent messages or time-sensitive offers
Be there for customers instantly when they have a question while browsing your site
Most importantly, keep your teams organized with a shared inbox and never lose track of your customer email history again.
Build stronger relationships by keeping track of all your customer details in one place
Save time and boost performance by automating your segmentation and marketing messages.
Step up the design, engagement, and deliverability of your transactional email messages
Get more engagement by sending your marketing messages to a more targeted audience.
Turn your visitors into customers, Start with email marketing
Create a more targeted visitor experience with dedicated pages for each of your campaigns
Grow your email contact list with custom forms that you can integrate in your website
Moreover, launch Facebook ads from your account to retarget contacts or reach new audiences based on your contact lists
Conclusion:
The most preferred and thereby still in use type of marketing campaign. In conclusion, E-mail marketing is an easy way to target prospective customers. Furthermore, if you are ambitious about getting started with email marketing, do not give it is a second thought, start today.
Thanks For Reading
Also Read : Top 2 Award winning Software's For Email Marketing