DotCom Secrets VS Expert Secrets: DotCom Secrets and Expert Secrets are the two most famous books written by Russell Brunson. Both books are of great importance in improving the knowledge of business strategies. Brunson has made it easier for passionate marketer to enhance their marketing skills and take their business to the next level. 
DotCom Secrets covers every aspect of marketing strategies, so those who have already read this book might be thinking that there is nothing to read in Expert Secrets but, they are totally wrong. You'd be surprised if I told you how amazingly Brunson made its second book, Expert Secrets, even better. It is recommended to read DotCom Secrets before reading Expert Secrets.  
Basically, Russel Brunson is the founder of ClickFunnels, presented to people to grow their business either offline or online. In these books, Brunson has diversified the marketing strategies to a great extent by representing the examples of marketing sales and business development of his own life.
DotCom Secrets VS Expert Secrets
Let's see one of the most popular books of Brunson; DotCom Secrets. This book represents many examples and short stories to make us understand the marketing strategies more efficiently. To help beginners or experienced marketers with new things, he also describes some simple but actionable tips. So they can grow their company with less hassle.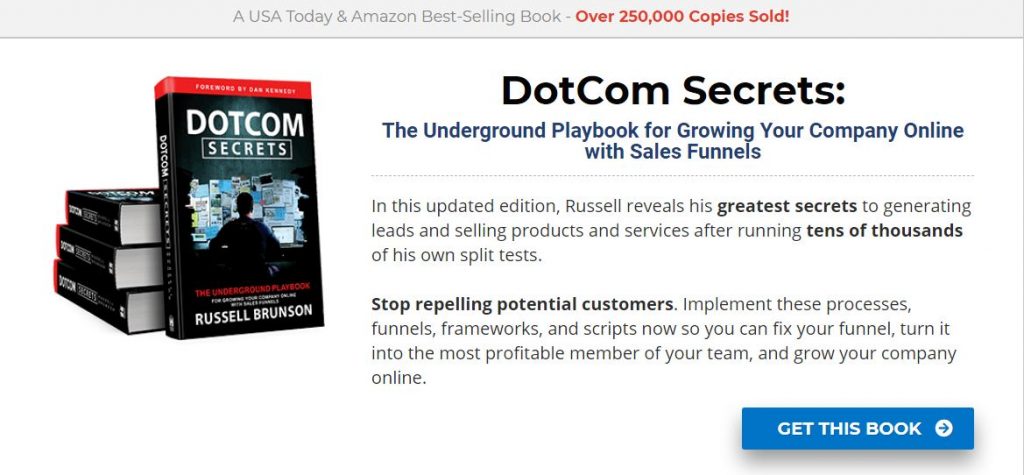 While on the other hand, the book Expert Secrets has its own prestige in business growth. In this book, he has given a lot of tips on how experts can grow his business or company if he has different products and services—also, the advice he had used to develop his own software company Clickfunnels.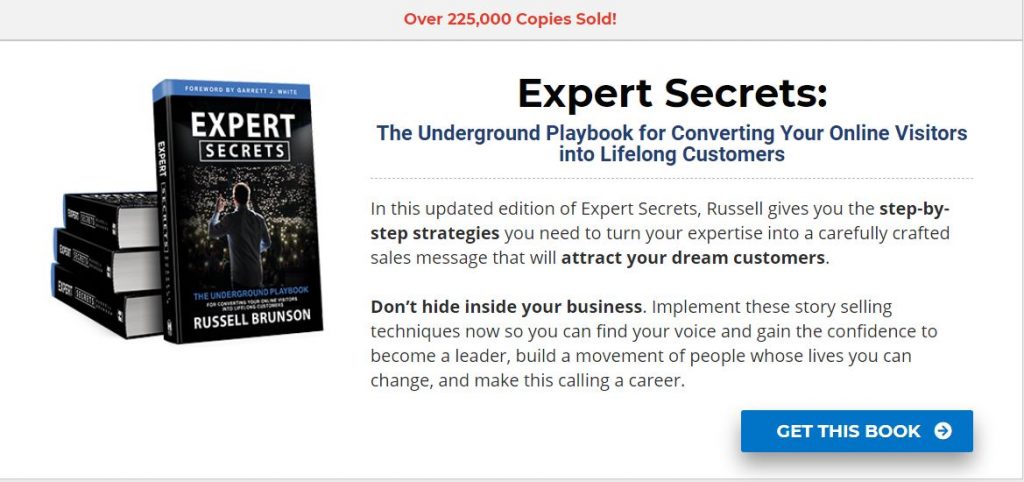 What Do You Learn In These Books?
Expert Secrets breaks secrets of business strategies down into three main sections that will walk you through; what Expert Secrets are. 
Creating your mass movement
Creating belief
What's next?
This book comprises four different sections in which Brunson explained each step move towards success in detail.
Sales Funnel Secrets
The funnels in the value ladder
Funnel scripts
Building for funnels
To have a more comprehensive picture, go through both these books, DotCom Secrets and Expert Secrets, to be more beneficial for you. If we talk about the most popular books for business growth strategies tips, then the first thing that comes to mind is DotCom secrets vs. Expert secrets. But that doesn't mean that Expert secrets are better or the other one is better. Because both are crucially important in business growth, so, let's see what's in these books?
Basically, both these books aim at improving an individual's business. However, there is a slight difference between the two. If you read both books mutually, you can learn all about building, growing, and maintaining a successful business.
DotCom Secrets explains how to run an online business successfully. To do so, you need to know how to engage customers, increase sales, make profits, and grab potential customers to get more deals. So, you can get all the above points in DotCom Secrets with the illustrations that Brunson captures from his own life.
If we talk about Expert Secrets, we can say that it is the second but most advanced version of DotCom Secrets. This book can learn all the tactics and more significant marketing strategies to become an online business expert. This book is for beginners, but it also suits business persons who are already running a company.  
In addition to this, these books are the masterpieces of Brunson that come to light to improve people's mentality. If you are looking for an expert's advice to grow a business successfully, you can get a broader picture through these books. You can get all kinds of motivational and inspirational words from these books to become a successful person.
Should You Read It?
If you have a query, should we read these books? Then let me show you under which circumstances you should read these books. If you are already running a business offline or online, you desire to grow online, then yes. You should definitely read both books.
In my opinion, no matter what type of niche your business has, both books should tops the list of the priority of the things in your reading. I do recommend reading DotCom Secrets first before reading Expert Secrets.
Why should you get these books right now?
At the moment, you can get both these books for free. The only thing on your end if you get these books right now will be to pay the shipping from Russell Brunson. So, grab these books before he ends the promotion because he gives away a limited number of copies.
Thank you for reading
If you liked this article and want to read more of these, please subscribe to our newsletter and follow us on Facebook, Youtube, Linkedin, and Twitter.