Chapter (8) Off Page SEO Popular ranking Factors:
What is off-page SEO? Off-page SEO refers to techniques you can use to optimize your website and help you rank higher in SERPs, while on-page SEO and on-site SEO factors are based on the elements and content on your web page or site. They are not design or code related and are more like promotional concepts. This section looks at the following (see image below):
Localization and local citations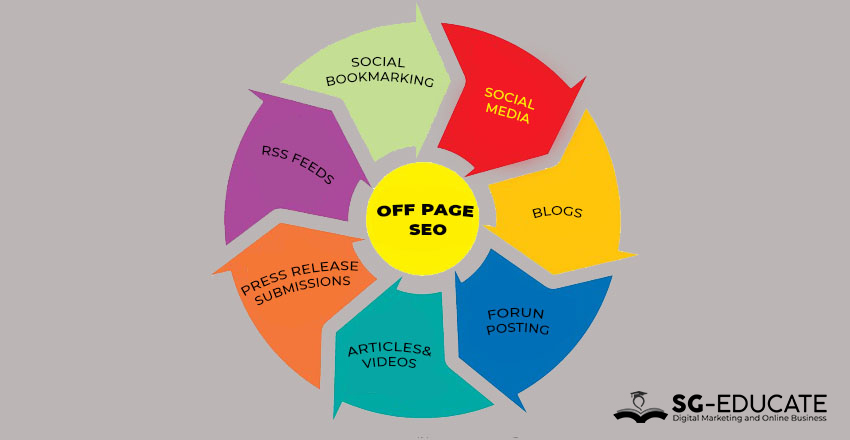 Social Media
Expand your reach by taking advantage of social media optimization and marketing. Social media is an amazing medium with an ever-increasing scope. You can indulge in networking and increase your connections considerably. Reaching out to the modern target audience is beneficial because users can share and promote your website. Keep your audience engaged, and share updates with them. For example, Facebook and LinkedIn can be awesome utilities that let you expand your business horizons significantly. Share updates and keep your users in the loop using Twitter. You can use these social media sites' capabilities for branding and advertising for a fraction of the cost of traditional marketing methods such as television advertising, press releases, and Yellow Pages listings.
Blogging
Blogging is an excellent tool for achieving user engagement. You can keep users abreast of the latest trends and technologies in your niche. Informative content on blogs acts as supplementary information about your products or services. Troubleshooting steps, product-relevant content, and meaningful information are some of the elements that can be included in a blog. A plethora of blogging domains and tools can help you reach out to your audience. Inbound and relevant links from your blog to your site can significantly boost your SEO implementation.
Localization and Citations
Local SEO is an important off-page factor because it caters to the user's region. It is a boon especially for small- and medium-sized enterprises because it helps them connect with users in their vicinity. Google My Business allows you to list your business and gain prominence in SERPs. You can place your products or services and categorize them to show up when a search query is used for that category or niche in the region. Information such as working hours, updates, and contact information can be provided, leading to better accessibility.
Local citations are brand mentions or reviews that educate users about product robustness or attributes. Local SEO utilities such as Yelp and Foursquare help understand your products or services' pros and cons, courtesy of user feedback or input. Reviews help you establish a connection with users and understand their viewpoints and concerns related to your business. Increasing interaction with your users will help streamline your business in the long run.
Inbound Links
Inbound links are links from other domains pointing toward your website. Links from high-page rank and authority domains are preferable and lend more credibility than links from domains with low authority or low page rank. The number of parts that link to your website can be a crucial factor.
Studies suggest that links from several different domains to your site can boost your SEO implementation.
However, it would help if you did not indulge in link farming or use underhanded techniques, resulting in a penalty. There should not be too many links from a single domain because this indicates spamming and can have negative consequences.
Referral links from blogs, social media sites, and news aggregators are handy, provided they are relevant and contextual. Inbound links from another domain's home page or key pages are more useful than links from a sidebar or an insignificant page location. Google recommends getting links from domains with high-quality content. Forums, reviews, and comments can contain links pointing to your website and enhance your site presence, provided they are not irrelevant.
Backlinks from social bookmarking sites (such as Reddit) and web directories (such as DMOZ) can affect visibility positively.
Conclusion
This chapter looked at on-page, on-site, and off-page factors that are important for SEO implementation. Case studies hint that more than 250 ranking factors determine the rankings on SERPs. Although the elements remain a business secret, you now have a basic understanding of them and how they help ensure a satisfactory user experience.
SEO rules change every year, but the fundamentals remain the same: concentrate on user intent and user experience because SEO is increasingly tending toward that paradigm.
Thanks For Reading
If you liked this article and want to read more of these, please subscribe to our newsletter and follow us on Facebook, Youtube, Linkedin, and Twitter.